http://www.rolandgarros.com/en_FR/news/articles/2013-06-01/201306011370088750501.html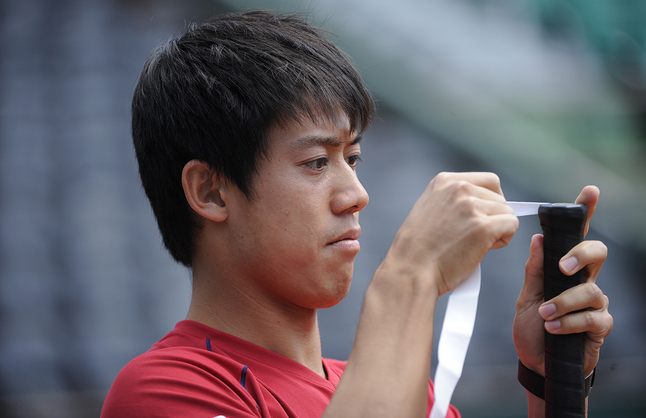 Project 45" was Kei Nishikori's main goal when he began his pro career. It was his aim to get to No.45 in the ATP rankings, one spot higher than Shuzo Matsuoka who was his country's most successful player to date. Having missed the French Open last year due to an abdominal strain, every match he wins here is a bonus in terms of points. And after Saturday's four-set victory over Benoit Paire which put him in the Round of 16, he will need to launch a new project, entitled "Top 10".
The former Brad Gilbert protégé who is now at the Nick Bollettieri Academy was never headed out on Suzanne Lenglen Court and was a model of consistency in comparison with his French opponent for whom, like Ernests Gulbis, the adjective "mercurial" could easily have been coined. Nishikori took the opener and it was not until the second set that Paire found any rhythm, securing an early break. When he was given a penalty for coaching, he protested at length to no avail. Nishikori got back on service in the psychologically crucial seventh game, prompting Paire to shatter a racquet in a fit of unforced-error-induced pique, the Frenchman took the ensuing tie-break 7-3.
Game on? Not quite. Nishikori remained unruffled and took the lead to open the third set. Paire battled – with his opponent, the windy conditions and indeed his own instincts to lay down a drop at every opportunity – and broke back to make it 4-5 but could not hold to stay in the set. The fourth was one-way traffic and Nishikori took the match 6-3, 6-7(3), 6-4, 6-1. All in a day's work for the world No.15 as he continues his inexorable rise up the rankings. He is the first Japanese to make the fourth round at Roland Garros since 1938.
"I didn't see why he was given a penalty, and I didn't care," smiled Nishikori. "I'm happy to create history, happy to break another record. When I was first in the top 20 in 2008, my tennis was changing. You need a lot of experience to be there. You need not to make crazy mistakes. Then I had big injury in 2009. This year is going well for me and hopefully I will keep going."